A few days before, over the weekend, M suggested we take a trip to the mountains near Butte for some mountain biking. While there, we could camp and bring the dogs along and have a grand time. I had no idea where we were headed or what camping and biking opportunities she was referring to, but I didn't care. I was burnt out from work and needed a break, so anywhere that took me to freedom was fine with me.
It was early afternoon when we finalized our preparations and packed the last of our items into the truck. The packs and sleeping gear were up front with us, while the boxes and the dogs with their beds were in the back. The wind had been relentless all morning but it was sunny and warm and we were excited to go. With the long stretch of road ahead of us, M and I set out westward, ready to embrace our whirlwind camping and biking adventure over the next three days.
The wind kept up as we made our way out beyond Belgrade, Amsterdam, and finally Three Forks, out into the wide-open dry-country that made up the western part of Gallatin County. The sun shone through the window and the skies remained blue so I was happy. There's nothing that gets me more excited about a road trip than sunny weather and fine destinations. Early in the ride, Buddy discovered the possibility of climbing on the cardboard box and plastic bin in the back so he could get closer to me and possibly stick his head through the window. Regardless of how much shouting and pointing I did, he didn't get the point. Or maybe he did, he just didn't care. For most of the ride he stayed up there, alternating at times with Rowdy to see who could ride the box the longest before falling off. Needless to say, the lid to the cardboard box was the first casualty of the trip.
It's a short drive from Bozeman to our exit in Whitehall. The local National Forest Service office was next to the road so we pulled in and stopped to get some information. Neither of us had been there and since this was M's idea I was willing to go along for the ride. I tend not to stop and ask for directions unless I really want to get to where I'm going or haven't a clue about the general direction of a place. I'd rather go with the moment and see what happens but it was good we stopped because we found the information we were looking for (or so we thought) and were able to get on the road.
We made our way onto Highway 2 and quickly found ourselves away from Whitehall and in the middle of dry farmland that reminded me of my childhood school days in the farming community of Shields Valley. The only patches of green were found in areas of extensive irrigation, with the rest looking as if it hadn't seen rain in months. This juxtaposition, along with our proximity to Bozeman, intrigued and excited me. I was learning new things about the region I had lived in for 18 years! This is why I love the mountains and valleys of the Rockies. This is why I love nature. This is why I love living in Montana.
The maps and instructions in all of the pamphlets and guides we were reading never gave clear details on which roads to take, other than providing Forest Service road numbers that inevitably disappeared as we drove by each of the roads we needed to take. After driving over the pass and down into Butte, topping off our gas, and then driving back up over the pass again and onto the eastern side, we found one of the roads we were looking for. Because we didn't have a set campground in mind, we were going to look at two and decide between the two. After going about a mile in on a sketchy, sandy, narrow, and rutted road in M's low S7, we turned around on the side of a hill and slowly drove back to the highway. Option one was no longer a possibility, so hopefully option two would be. If not, however, there were plenty of appealing spots along the road that would make great sites for the next two nights.
Finding the next road was a bit easier. We had already driven by it once with me remarking that it looked awfully similar to the road we were looking for. So, with the second time being the charm, we drove up Toll Mountain Road into what looked to be a beautiful, remote access road to Forest Service land. Little did we know it would soon become a dust-filled super-highway for all those people hiding out in the woods, but more on this in a minute.
After taking a slight detour that ended with us turning around and backtracking some, we finally found the campground we were looking for tucked in a small ravine, with heavy forests on either side, soft, leafy trees across the flats, and a small stream running through its middle. There were seven sites to choose from and we had the lot of them to pick from. We were the sole campers up there and it would remain that way through the night.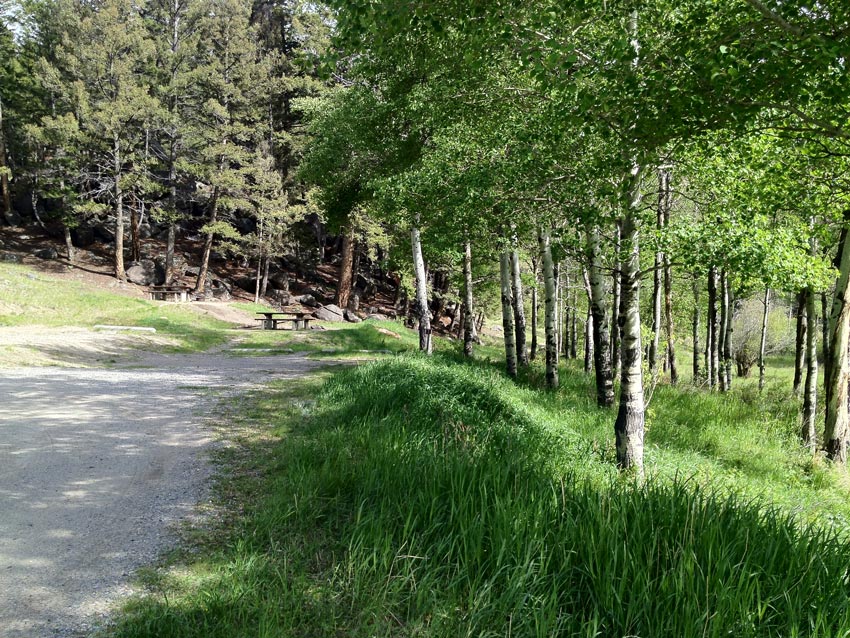 Before we set up camp, we walked around the area for a bit to get a lay of the land and to see which site looked most inviting. It quickly became apparent to us the middle site would work the best and so we started unpacking the bins and bags and setting up camp. The tent was placed further up the hill from the fire and picnic table, on its own terrace held into the hillside by large, stacked rocks. It was still afternoon by the time we finished, and, after doing a bit more exploring and gathering some firewood for the night, we decided to go for a short ride on the bikes around the area with the dogs.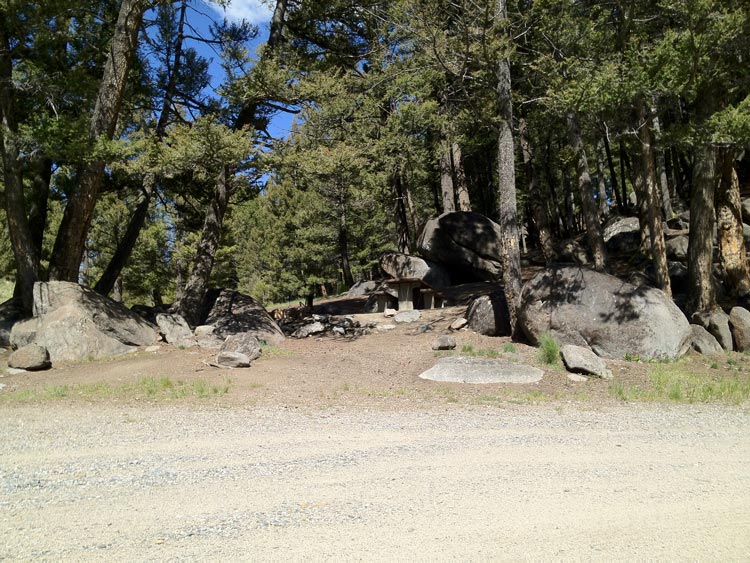 Our first part of the ride led us up a FS road that ended with a closed gate and a "Dead End" sign covering it. A stream was flowing next to it, so we got off our bikes and walked over to a large boulder area where the water flowed. It was perfect. The water gathered in a large pool by the side of the boulder in a hole below all the vegetation and soil, creating an isolated zen atmosphere in its tiny oasis. I took some pictures while Rowdy flew off the boulder, hastily jumped the creek onto the other side, and just as quick made it back on the other side again where M scolded him while I continued shooting.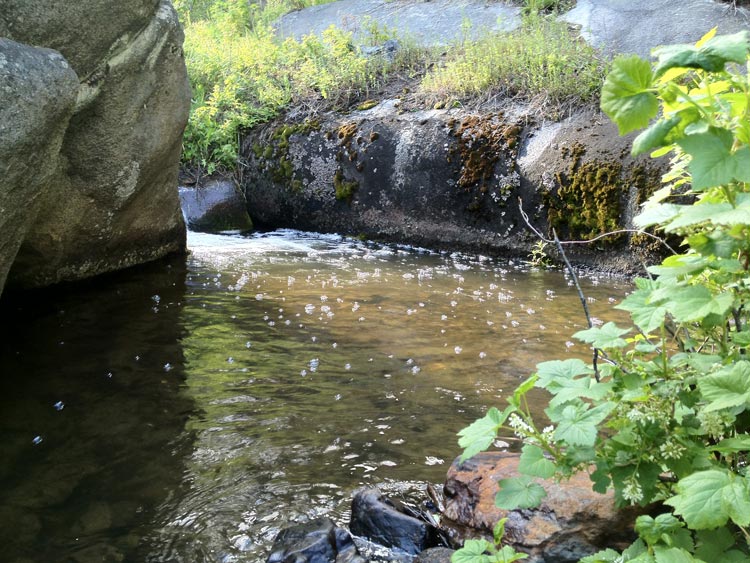 Having filled me need for photos, we left the pool and went back to our bikes. Thinking we were going back the way we came, I got on my back and was ready to shove off when I noticed M heading up to the gate and opening the side entrance meant for pedestrians such as ourselves to go through. I was leery about the idea of going into an isolated, wooded area with no help to call out for if the need arose, but M went through and I quickly followed. I kept telling myself that it was still a FS road and we would be fine, but it wasn't until we had made it all the way through to the last house that I became convinced we were in an area that was leased by the Forest Service to private citizens to have their cabins and cottages on. There was even a large pond, with several houses bordering it and a small water slide leading into it. The residences looked to be fairly maintained, at least as far as summer cabins go, and I slipped into thinking about what it would be like to spend a couple months up there, reading and writing and alone with nature. This didn't last long, for we were back at the gate again and closing it to continue our way down the road.
Back at the junction that would take us back to our site or lead us out to the highway, we turned left and headed towards the highway and some of the other roads along that route. Between the junction and the road ahead we were planning on exploring was a steep hill that we slowly rode up to give the dogs a break and to keep us from getting too tired for the next day's adventures. Arrival at the top led to a broad, open area that looked out across multiple valleys and mountain ranges. My heart leapt at the sight. It was wondrous indeed. The rolling, grassy hills filled with sage disappeared into the broad, dry valleys that were met once again by heavily wooded forests that rose up into steep, rocky slopes that topped out with patches of snow on the mountain peaks.
As we turned left on the main FS road and climbed another hill, I looked back behind me and found another set of mountain peaks, these ones part of the same range we were in and the same ones that can be viewed from the streets of Butte. After going a ways further on the road and running into all sorts of cars and dust and UPS delivery trucks, we decided we had gone far enough with the dogs and turned back for camp. On the way back, we stopped several times to take photos of the uplifting freedom of nature held before us, taking all the marvelous wonder in for a second time.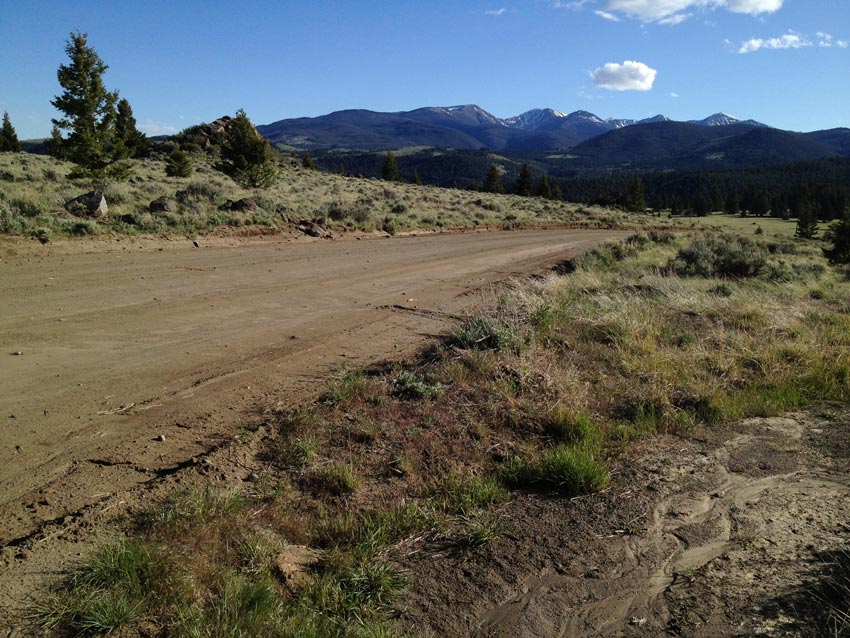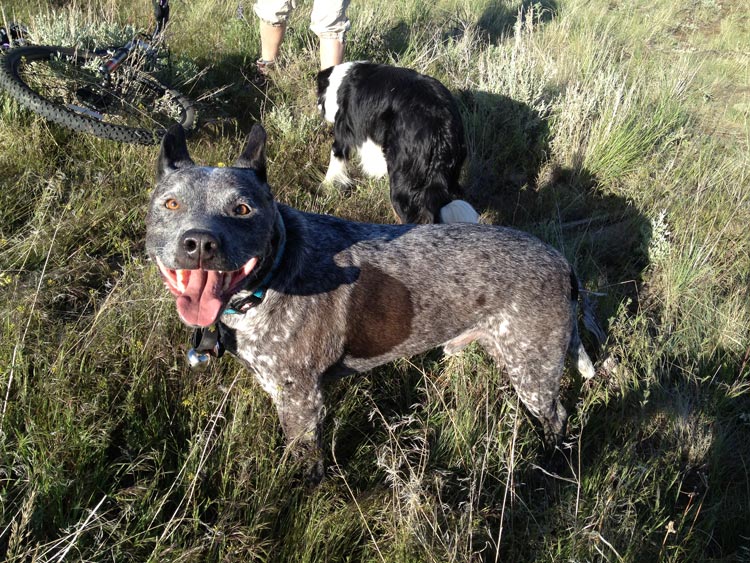 Back at camp it was time to start the fire and make dinner. Tonight's food would be prepared on the camp stove M had brought along, with the fire being used for heat and as perfect energy for making smores later after night had fallen. We ate the food, I made a smore (they were too sweet for M's taste), and then spent the rest of the night reading and relaxing by the fire before making our way to bed. We needed our sleep because tomorrow we would be riding a real trail and using real energy. I slipped into my sleeping bag, wrapped it around and over me, and zipped it up to make it snug and warm. I lay there for a few minutes, feeling the contentment of being alive along with the thrill of sleeping in such isolation, before I succumbed to the depths of sleep.